Education Career Fair

Friday February 2, 2018
Presented by the Schulich School of Education Professional Learning Program the Annual Education Career Fair (ECF) welcomes provincial, national and international recruiters to our campus to meet with graduating teacher candidates.
2017 welcomed over 150 B.Ed students, 35 Recruiters + 3 Federations.
Many teacher candidates solidified employment the day of the event with 18 organizations/school boards interviewing on-site. Many others acquired positions after the event after having success with Skype and phone interviews.
Our 2018 event is set to welcome over 100 professionals representing 55 organizations and school boards.  30 of these organizations/school boards are scheduled to interview the day of the fair creating great opportunities for our students to solidify employment before they even graduate!
This event is open to all current teacher candidates and Education Alumni.
*All students and alumni are asked to sign in at the welcome table before entering the fair.  
Click the links below for details on the fair:
Career Fair 2018 Line Up – including links to every organization/school board website
**NEW** Please CLICK HERE Find out who's attending the fair only? Who will be interviewing? Who will host a presentation? Who will host a presentation AND interview on-site? All answered on one chart.  Be sure to check often.  Specific times for presentations will be added as they are received.  If a time is not provided, be sure to visit the School Board/Organization at the fair for all details.
Floor Plan – map of where each organization/school board will be located
2018 Event
9:30 am – 12:30 pm Surtees Gym A – ECF
12:30 pm – 1:30 pm Break – Lunch
1:30 pm – 4:30 pm Interviews and Presentations – Details and Room Numbers to come.
Attention Students!
Students do not need to register for this event.  This event is open to all SSoE Year 2 Consecutive Education, Year 5 Concurrent Education, ATCP and TASL students.
Students are required to sign in before entering the Education Career Fair.
There will be a table set up with Professional Learning Assistants to sign you in.
Students please review the Preparation Guide to assist you in your planning:
Preparation Guide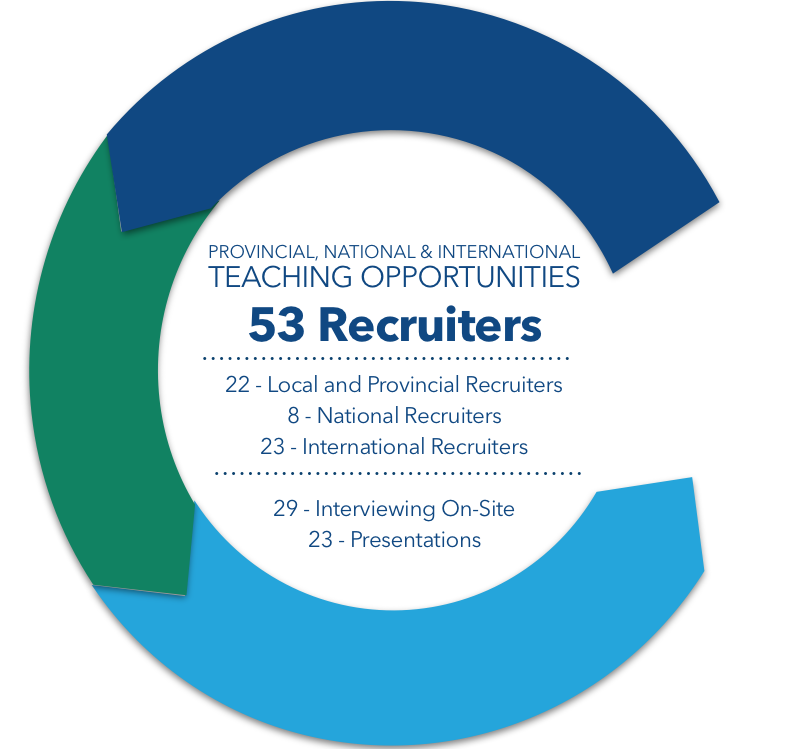 Registration for Recruiters is CLOSED – We have reached full capacity.
Over 240 teacher candidates will graduate from our Bachelor of Education Program in 2018.  Representation from each division is as follows;
Primary/Junior: over 55 graduates
Junior/Intermediate: over 50 graduates
Intermediate/Senior: over 60 graduates
Qualified French Educators: over 20 graduates
All questions/requests can be submitted to Mylae Robson, Professional Learning Coordinator at mylaer@nipissingu.ca.